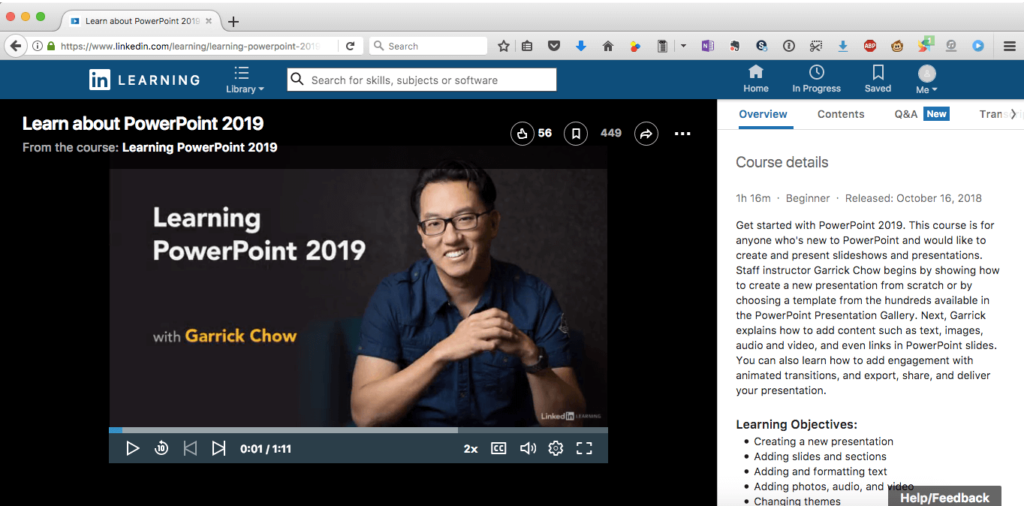 At the moment I'm working to upgrade many of my software skills. There include PowerPoint, vector graphics, web-based software like WordPress, and more. My choice of learning strategy is an old friend, Lynda.com.
Perhaps the best way of describing Lynda.com is this:
Lynda.com is world-class online video training courses delivered by industry leading trainers, that helps make complex or intimidating software and ideas easy to learn.
The Lynda.com training library contains several thousand courses on everything from Photoshop to design skills and pretty everything in between. For a monthly fee, you get full access to all of the published courses.
A couple of years ago Linked-in bought Lynda.com for $1.5bn. I was afraid they'd ruin it, but that doesn't appear to be the case. They've rebranded the service as Linked-In Learning and integrated it into their product suite, but the offering (and quality) is essentially the same.
Aren't there lots of free courses on YouTube these days?
Correct.
I search for, and watch courses at YouTube, too.
However, I've rarely come across any software tutorial on YouTube (even the ones with very high view counts, and ratios of positive/negative feedback) that comes anywhere near as good as the Linked-In tutorials. Many people who rave about the courses on YouTube in the comments, have no idea what they missed out on by not taking a professional training.
I think the reason the courses are so good is that Linked-In Learning have hired exceptional trainers. Those trainers intimately understand the software they teach, and are highly skilled at making complex ideas, simple. That's a skill few people have. (I've tried my hand at making instructional videos and found it really hard.)
My sense is that they're treated and paid really well by the company, and that's why they stay there. David Rivers is one of their trainers for Microsoft software. His courses are first-class, and I've included a short interview with him below.
Other things I like about Linked-In Learning
There are lots of things I like about the Linked-In Learning training.
Thousands of courses. There are courses on an incredibly diverse range of topics. If you have a specific interest around a certain piece of software, like Photoshop, then there's likely to be several additional trainings beyond the fundamentals that cover different aspects of using the program. For example, they might have advanced trainings, how to use photoshop for artists or photographers, courses on retouching, photoshop for designers, photoshop tips and ticks, and so on.
Full access. For one price, you can view thousands of different courses. Many of the courses come with exercises files so you can follow along with the instructor.
Smartphone apps. You can download and watch any of the courses on your smartphone or tablet.
Up-to-date. For major software packages, they record new video trainings for each new release. And, they're really quick to put out new content for major new releases like Microsoft Office 2019.
For me, the main benefit of Lynda.com is that the tutorials are engaging, well-designed and very practical. That is, they make learning fun. Importantly, complex programs like Audacity, Photoshop, Pixelmator, and others, are presented in a way that make them easy to learn. Over a progression of workshops, you can take your skills from complete novice, to an advanced user.
Linked-In Learning offers a free month trial with unrestricted access to everything, so you can see if it works for you. If there's some software program you are thinking of learning, I'd highly recommend taking a look at Linked-In Learning.